The Muskegon's Hamilton Apartments Map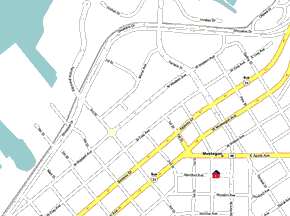 Directions & Address
The Muskegon Hamilton Apartments
81 Hamilton Street,
Muskegon MI
49440-1442
One Block South Of Apple Ave, between Jefferson and Sanford.
Art Deco meets twenty first century life style.

The historical Hamilton Building was built just before the stock market crash of 1929, by captain of industry Thomas Bennett, the founder of Bennett Pump. It was to be and remained upon completion the pre-eminent living accommodations for the who's who of Muskegon, then and now...

Remodeled and renovated to fit today's modern life style, Hamilton Apartments again take its place amongst discerning apartment seekers wishing to live in high society style.

Come feel the "Hamilton" experience.

Starting at $400 for 690 square feet of living space makes Hamilton, hands down, the best place to live in the metro area.

Hamilton apartments are larger than many houses so naturally you'll find them roomier and more comfortable too.

Remembering the fact that heating this vast and wonderful living space is also included in your rent... ought to warm the heart of any Michigander.