The Muskegon Hamilton Apartments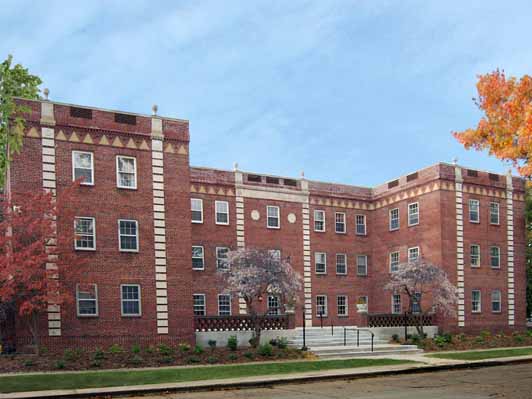 The Muskegon Hamilton Apartments are being restored in a gracious manner for those who wish to live in the style of a time gone by.



You are walking distance from the Muskegon Lake waterfront, where you'll find the cross lake ferry, parks, beaches, concerts, festivals, and trails!

The surrounding area couldn't be better! Within a few blocks of home, you can visit museums, restaurants, nightclubs, a historic library and a sports arena.

There's been over thirty million dollars in area development recently, including Baker Culinary Art School, the Muskegon Smart Zone and Harbor Landing.

You're also within a mile of the hospital, your local government and a post office. It's a great area to work and to live!

So, whether you walk, bike, drive, take a taxi or ride the bus you are always closer to where "it's at" when you start from the door of the Hamilton.

Art Deco meets twenty first century life style.

The historical Hamilton Building was built just before the stock market crash of 1929, by captain of industry Thomas Bennett, the founder of Bennett Pump. It was to be and remained upon completion the pre-eminent living accommodations for the who's who of Muskegon, then and now...

Remodeled and renovated to fit today's modern life style, Hamilton Apartments again take its place amongst discerning apartment seekers wishing to live in high society style.

Come feel the "Hamilton" experience.

Starting at $400 for 690 square feet of living space makes Hamilton, hands down, the best place to live in the metro area.

Muskegons' Hamilton apartments are larger than many houses so naturally you'll find them roomier and more comfortable too.

Remembering the fact that heating this vast and wonderful living space is also included in your rent... ought to warm the heart of any Michigander.
What Is Hamilton Living?
It's smart, elegant and affordable.
It's downtown living without compromise.
It's walking barefoot on your very own, hard wood floors.
It's living close to the action but having floors, ceilings and walls so thick and silent..
you'll swear you have a whole building to yourself.
Finally, it's a special place for you,
to call home.
"The ache for home lives in all of us,

the safe place where we can go

as we are

and not be questioned. "

-Maya Angelou